Download and extract the drivers BEFORE installing the PCI cards in the computer.
Download the latest drivers for the Comtrol PCI Rocketport here. This driver is for the Windows XP operating system.
When you execute the rp-winxp64-5.01.exe you are presented with the Win Zip self extractor window: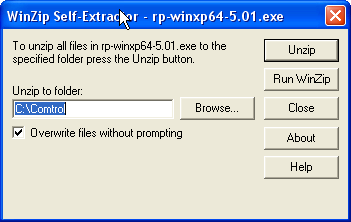 Click on Unzip to unzip the drivers to the default C:\COMTROL directory.
Download the Comtrol utilities here
Run the downloaded file to install the Comtrol utilities.
When Windows detects your hardware, specify the C:\COMTROL directory for the driver location and allow Windows to do the rest.
Device Manager
One installation is complete, you will have a new entry in the Window's Device Manager. Find the multi-serial port adaptors section and open the sub-tree. You will see your new adaptor listed here. You may edit the properties to select the COM number assignment of all the ports.
You will also see the new ports in the Serial & LPT section. The COM assignments will also be display here.